I finally got a smart phone. My little prepaid phone just wasn't cutting it anymore with constant dropped calls. I think the phone companies do it on purpose, drop the cheap phone calls so they can get you to buy a nice phone and lock you into a 2 year contract. Well, it worked. And I tell you I toughed it out for a long time. Anyways, the smart phone (let me just say it, my awesome iPhone 5) has some added perks that I didn't fully appreciate - namely the camera. I am so loving that I can take photos whenever and wherever, without planning ahead. These are the first photos I printed, check out how well they turned out!
So I actually own library-themed paper, it's a 6x6 pad of Lawn Fawn 'Dewey Decimal', so I just used a few sheets, picking out the color scheme I wanted to concentrate on, and layered them on top of each other - no cutting! Then my next favorite part of this layout is that I finally found a use for this MME 'Stella & Rose' lamp! I'm hoping it looks like a reading lamp.
The title came from
Rochelle Spears's May blog challenge
to choose from particular phrases, and then the challenge at
Scrap Your Story
is to use mixed fonts in you title. That's the way I like to do longer titles anyways! Finally, I'll link this up at Two Peas for their
Scrap Your Stash challenge
to use 3 elements: washi, patterned paper and letter stickers.
Patterned paper: Lawn Fawn
Washi tape: My Mind's Eye
Stickers: Crate Paper, Carta Bella, My Mind's Eye
Letter Stickers: American Crafts, Jillibean Soup
Stamp: Technique Tuesday
Ink: Memento
Other news to share, there are 2 awesome design team calls going on right now that you should check out:
Sweet Stamp Shop is looking for stampers to be part of a 3-month Design Team. I've really enjoyed doing a couple of 1-month DT stints with them. I promise you will love working with Nicole, too, so get that application in!
http://sweetstampshop.blogspot.com/2013/05/sweet-design-team-call.html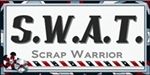 S.W.A.T. is looking to add to their Design Team, the term is for 6 months, only 2 projects a month, and all the projects are given to you up front, so you can plan ahead. Great group of ladies, and fun challenges!
http://swatscrapwarriorsadvancedtraining.blogspot.com/2013/05/design-team-call.html
Thanks for stopping by!